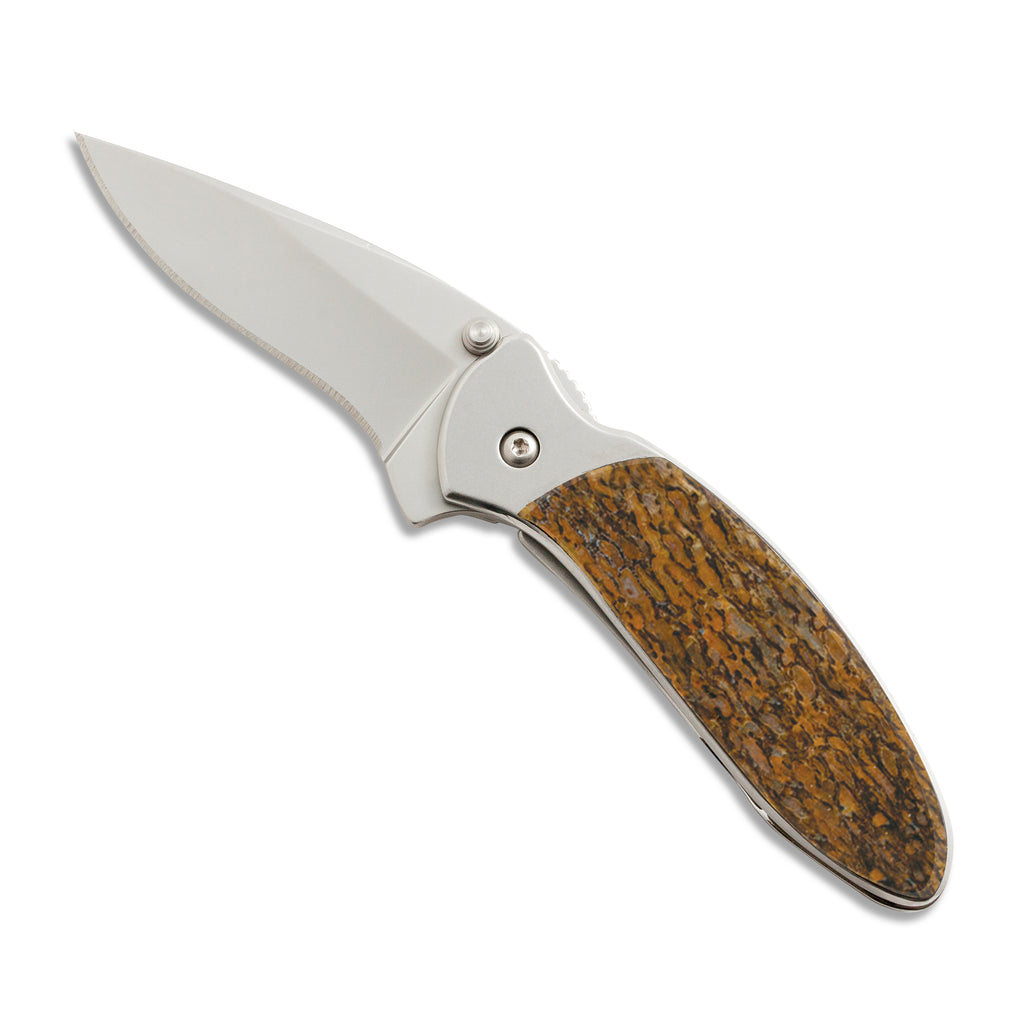 Santa Fe Stoneworks
Fossilized Woolly Mammoth Bone Collection - Kershaw Chive
Fossilized Woolly Mammoth Bone
The material in these knives is fossilized Woolly Mammoth Bone, from Siberia, and over 10-15,000 years old. Woolly Mammoth Bones were used as construction material for dwellings by both Neanderthals and modern Humans during the ice age. Bones were made into various tools, furniture and musical instruments. Large Bones, such as shoulder bones, were also used to cover dead human bodies when buried.
Mammoth fossils are 150,000+ year old natural material so patterns and colors vary on each knife, No two are the same! These Photos are representations of the Material, actual products will vary in color and patterns.
Kershaw Chive
The Kershaw Chive has a blade of slightly less than two inches, The slim design makes it easy to carry and its razor-sharp blade of high-performance high-carbon steel means it can take care of a full range of cutting tasks. which makes it perfect for pocket, pack, purse, or briefcase carry. But just because it's small doesn't mean the Chive isn't mighty. In fact, the Chive is perfect for just about any cutting task you'd care to ask it to do—from opening packages to breaking down cardboard boxes.

To ensure this handy little blade is always ready when you need it, the Chive is equipped with SpeedSafe assisted opening. Just pull back on the flipper and the blade moves out of the handle, ready for use.

The high-carbon blade steel offers good edge retention and excellent corrosion resistance. The bead-blasted finish is easy to maintain. For safety, the Chive has two locking systems. The frame lock secures the blade open so it can't accidentally close during use. And to ensure that it won't accidentally open during transport, the Chive is also equipped with a Tip-Lock slider to lock the blade closed when folded.
Please note: This knife is equipped with a clip on one side.
---
More from this collection